How lovely! This is a screen grab from our latest Google account email! Thank you!
Feb 2018
---
Thank you Lorna Thornber for the fantastic write up in www.stuff.co.nz
To read more >>
---
"Thanks again for a fantastic reprieve from the craziness of life, I was invigorated, refreshed and felt like I had climbed a little higher out of the ditch … and loved and pampered…of course… great food ! What a great place. The beach was fantastic (would have loved to see it stormy) but very appreciative of the beautiful weather we had. All the best for your work and journey."
S from Whangarei, Sept 2017
---
"There are no words to describe the richness of my experience at Te Wahi Ora 12 days ago. The ripple effect has already reached beyond my own life to the many lives I interact with through the week. The balance in my inner life is exciting. My new awareness is resonating in so many ways as each day unfolds.
It is honest to say, all tensions have evaporated because of my insights gained. I want to stay in touch with Te Wahi Ora. Please put me on your email list."
Pauline, Feb 2017
---
"It has been five days since I was at Te Wahi Ora and I feel compelled to write. Firstly, I am still processing all that happened during my stay.  Secondly, it was life changing for me. You, Hilary and Inge gave me the nurturing and validation that I so badly needed. I felt totally listened to for the first time.
I was ready to make a move, but you helped me to see where I needed to move to. Now that I am home I have listened to the Brene Brown CD on worthiness and boy did that dovetail with my conversations at Te Wahi Ora.
I feel hopeful for the first time in many years. Really looking forward to coming back again."
Kelley, Feb 2017
---
"Thanks so much! For the talks, the time, the laughs, the food – and everything you do for so many people"
Pat, July 2016
---
"Have you ever given yourself a retreat — time out from obligations, time to be nurtured and to reconnect with yourself? If so, you may imagine or hope that the retreat will be peaceful, with no disruptions. But this may not be the case. I began writing this post to you from the wild west coast beach where I was taking a retreat. To my surprise, I walked right into a storm. As you can see from the photo above, the storm robbed land and sky of all colour. At night the sea rolled with a rumbly roar while the wind, at a higher pitch, whined like the scraping of silk or whirled like the breath of a giant blowing down a long tube. I could hear it tearing at the tree tops while rain and sometimes hail lashed the walls and windows of my chalet. And yet . . . Yet, amidst all this fury from the elements, I felt still and at peace. What a surprise! Have you ever experienced this — peace in the eye of the storm, or exhilaration even?… " READ MORE >>
Dr Juliet Batten, Aug 2016
---

Michele, June 2016  (from the Te Wahi Ora Womens Retreat Facebook Page)
---
"I have already had 3 ladies asking me about my time away – I thank you once again for my time with you and your helpers. I have put my thoughts on Trip Advisor, so you may get a few more guests :-)"
Aileen, May 2016
---
"Thank you again for such an amazing weekend. i feel so much better and I cannot express enough how much being there for the weekend helped me. It's such a wonderful place and i cannot wait to recommend it to other women"
Ellie, April 2016

---
"I would love to say a big thank you to you Bev, Christine, Gaye and Karen for making my stay much more than I could have imagined. My stay at Te Wahi Ora has allowed and given me the courage to move foreword. What a great way to celebrate being alive. Sending you all lots of love and gratitude"
Jennie, Sept 2016

---
From Trip Advisor New Zealand, April 2015
---
"Thanks so much for all your care and concern down the years. I can't think of any place I'd rather be to rest and have the time for contemplation"
Bev R, Dec 2015
---
"I certainly made the most of lying in bed and watching the waves roll in. Awesome. Driving home and mucking about at home, I can't help but feel so much more empowered as a woman after being at Te Wahi Ora. Thank you so much Bev and please say hello to Elsa. She was a gem and I appreciated her being there as well."
Karen, Oct 2015
---
"Dearest Bev, Christine, Karen and the gracious incredible team that is part of Te Wahi Ora. Words will not be enough to describe how meaningful the last week has been for me and its importance in my current challenging journey. The emotional and physical healing that happened for me was only possible due to the caring and accepting atmosphere that Bev and you all created. I was constantly nurtured in so many ways (the food is top notch!) felt safe and enjoyed the wonderful accommodation and it's closeness to the beach. I look forward to coming back again next year!"
Tal, Aug 2015
---
"Dear Bev and Karen. So many many thank you's for the past 2 days. I can't find the words to express the beach oasis and what meeting the two of you has done for me. i will surely be back to Wahi Ora – my slice of heaven. Thank you!"
Maygen, 2014
---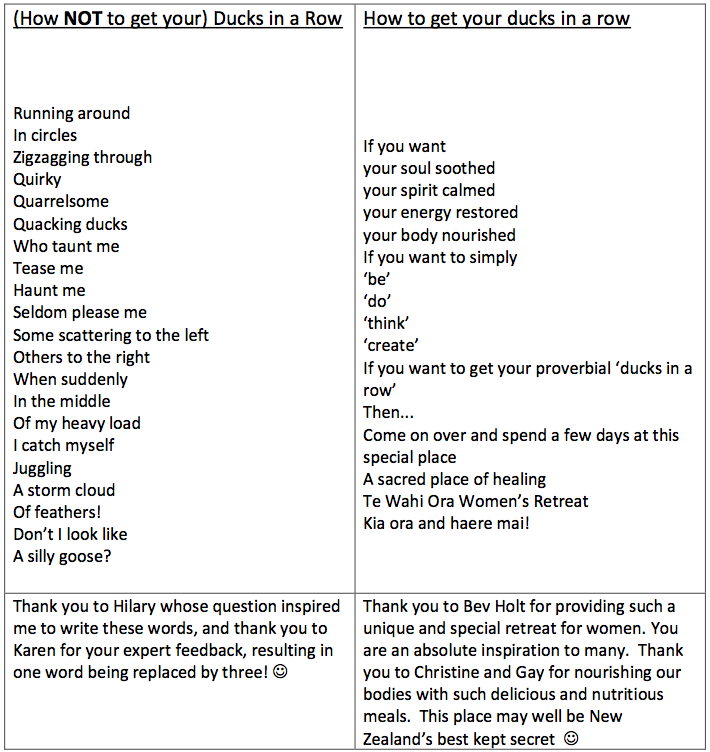 A deeply felt 'thank you' once again for providing such a special place and a unique service to tired and stressed women. Aroha nui
Gaynor, Jan 2016
---
"Thank you for an enjoyable weekend at Piha, being together with like minded women. It is being part of the larger spiritual purpose at Te Wahi Ora that made the hard work (at our working bee) which otherwise might have been fatiguing, energising and regenerating. And what a difference it makes."
Helen, Jan 2015
---
"I would love to say a big thank you to you and Christine, Gaye and Karen for making my stay much more that I could have imagined. My stay at Te Wahi Ora has allowed and given me the courage to move forward. What a great way to celebrate being alive. Sending you all lots of love and gratitude."
Jennie, Sept 2015
---
"Thank you. Believe it or not but we got very inspired by Te Wahi Ora and we want to have something similar on our side of the world. (Mexico)   What you have done there is amazing. We are just getting started and it is still a dream in the making but hopefully in the next two years we can make it happen. I hope you don't mind if we ask your feedback once in a while and hopefully you will get to visit us when we have it up and running."
Elda, 2014
"Our vision is constantly changing, but one thing is for sure. We want to have a women friendly place with reasonable prices to stay. We would like to start by having it available for retreats, group or family activities. At this point that is our goal, but we still need to finish. Little by little we are getting there. I've sent you more information and pictures. We are very excited with this project and Te Wahi Ora has been a great influence."
Elda, 2015
---
Juliet Batten is a regular guest at Te Wahi Ora Women's Retreat and wrote about it in her blog. Follow this link to read how much Juliet enjoyed her stay in winter 2014. Her blog post is illustrated with lovely photographs that tell the story. VIEW IT HERE ON THIS LINK>>
"Once again this year, I've given myself a winter retreat, in the wild open spaces of the west coast, where clouds roll in from the sea, and the rocky lion roars through the night. It's warm and cosy in here, as we dine on delicious food in front of the fire, and sometimes catch a fine spell in which to walk the black sand along the edge of the surf. Knowing I don't have to shop, or cook or attend to anything. Delicious food will appear at the right time, plucked from the garden and full of brightness. The days roll by and the surf rolls out, and on the last morning as I stride along the beach I am given a gift. The inner spiral of myself is unfurling. I have returned to simplicity. Retreat. It's a re-treating of myself, and at the end of winter when it's easy to feel jaded, is the best of gifts. When did you last treat yourself? What gifts has nature given you lately?"
Juliet, Winter 2014